Ladies and Gentlemen I present you with the start of one of the most popular, Movie Genre's of the 30's, the Screwball Comedy. This Film is also down in History as the first of three movies to be the only winners of the BIG FIVE at the Academy Awards.
Th
e film begins with Claudette Colbert playing Ellie Andrews. She has just tied the knot with a rich man of society, King Westley. She is whisked away to her father's yacht. Ellie decides to jump ship and ends up on a bus headed back to her husband. As much as she doesn't want to she has to accept the help of out-of- work reporter Peter Warne (Clark Gable). Warne in a rather selfish manner, doesn't give her any choice: either she sticks with him until he gets her back to her husband, or he'll tell the press where she is.
Where to begin, this film is directed by the ever brilliant Frank Capra whom has directed many great films in his career, Mr Smith goes to Washington and Its A Wonderful Life been my favorites. This is the first film to win the Big Five awards at the Oscars, these are, Best Picture, Best Director, Best Actor, Best Actress and Best Screenplay in either category (Adapted or Original Screenplay). This only happened another two times at the Awards the other two big five winners been, One Flew Over The Cuckoos Nest and Silence of the Lambs.
Clark Gable is absolutely spot on in this film he deserved his Oscar its hard to believe its the only one he won.... not one for Gone With The Wind its a shocker. You can't help but like Mr Gable. He is that good he just grabs your attention and runs away with it. Be it drunk, been selfish or down right mugging you just can't help but like him. Sometimes I feel he is that good he leaves poor Claudette looking lost with his scene stealing.
There is some great heart warming scenes that I enjoyed, like Clark Gable with his "walls of Jericho" brilliant!.
I can see why the Academy and Joe Public like this film, its typical Capra with the little man going against the odds and getting his prize and all is well at the end... I just feel in my personal opinion that I have seen it done better in his other films. That been said The lighting and setting is wonderfully done, both leads just light up the screen so well. There is so much going for it in this film and having a look on IMDB it is very popular but....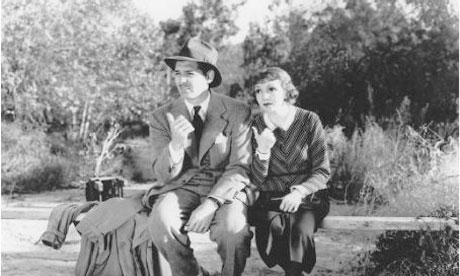 I am not a huge fan of 30's Screwball accept the ones that star BOTH Katherine Hepburn and Spencer Tracy. I don't get Bringing Up Baby with Cary Grant and Katherine Hepburn, which many people regard as an absolute classic and the best in this genre. I just cannot warm to them its not the age because there is plenty of other films from the 30's and before that I adore, I did do a top 5 list of 1920's silents. The point is I just find them boring and cannot connect to these films I am going to get so much stick for this with critics I know. I suppose I can't like every genre and film I watch. I just find them unfunny I do not understand why.
This film has lots going for it the leads are great, the direction and story is typical Capra (that's a good thing). Its just not my cup of tea like I have said before I can't warm to these type of films. Its like Cary Grant I prefer him in his Hitchcock films than his early 30's screwball comedies. Who Knows maybe one day I will wake up and finally understand these films till then I'm sorry to say I'm not a fan. Bring on the 50's where Screwball comedy was at its best in my view, lead by Marilyn Monroe.